Tracking is motivational 
I have had a summer of getting back on it.
I had knee surgery in February and although I initially recovered quickly, I hadn't realised that actually progress was slow and that my level of exercise and diet were not matching up. I found after a few months that my favourite clothes were not feeling comfortable so it was time for action. I talked to my personnel trainer about my concerns and he suggested I use My Fitness Pal to track my calories. Now, I love food so I needed a long term sustainable plan. We planned my amount of calories for each day and discussed how I can invest them in whatever I want but that I need to track what I am putting into my body.
Tracking on a daily basis has become a way of life over the last few months and now I have been doing it I am seeing results. My Fitness Pal shows me the results every day, every week and then every month. I am motivated to continue tracking daily as it shows me that what I am doing every day is working, even when I have a bad day.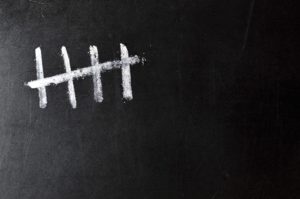 For me this model of tracking is the same as new patient tracking. I like practices to track new patients', as it shows how a practice is doing at every stage of conversion and this is so important to the continued success of dental businesses. The conversion points in a dental practice encompass the following:
Entry point – website, social media, advert etc
Telephone or online enquiry
Reception response to telephone / online enquiry
Treatment coordinator input
Comprehensive assessment
Options
Follow up from options meeting
Treatment plan
Tracking of all treatment in treatment plan
End of treatment plan
Membership ongoing care
This is a huge patient experience and the conversion points need to be tracked for each aspect, daily, weekly and monthly. Each member of the team can influence the conversion from continuing and I often uncover many breaks in the conversion in practices, in each point listed above.
One of the main areas practices concentrate on is the starting point. This is a very important part naturally, as it also confirms if your investment in marketing is working, however you must place the same emphasis on all the other points of the new patient experience.
I often see a breakdown at points 7 through to point 9. This is where the practice need to invest more in making sure that patients follow through with all the recommended treatment, it still amazes me how often this area is not tracked at all. A month later when it is quiet the reception team are asked to run an outstanding treatment report and start calling patients, which is not always too effective in my opinion it is often too late.
First and foremost you meed to invest time in tracking the 11 points, once you have set this up then you can look at areas that need training and support to get your conversion % at each point to a higher level. Remember 1-2% increase in this model delivers a lot of additional cash flow in your business, so this really is worth tracking every day. Tracking has got me back on track and gets my coaching clients on track to. Remember not every day is a good day, things happen but if you are not tracking how do you know if you are having a good to a bad day?
Be motivated and start tracking today as it is the key to success.
Michael