eBook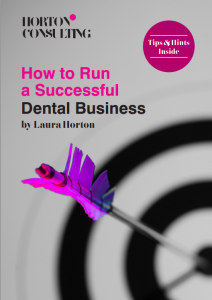 In this e-book, Laura Horton discusses the key aspects of running a dental practice.
First of all Laura will talk you through the importance of the perception of your practice, marketing and leadership.
In the centre of the book, Laura discusses important subjects of customer service, adding value, the front desk team and treatment coordination.
Laura further discusses dental photography, communication skills, the way you present your treatment options, the vital development of your team and the financial aspects of running a practice, which underpin the success of your business.
Follow this link to buy the book
Price £5 including vat