Reception LIVE
13th Nov, 2018
01279 888 176
---
Course Information
Course Duration
1 day (9:15 AM – 4:00 PM)
5 hours 15 mins verifiable CPD
Enhanced CPD outcomes achieved: A B C D
This course only runs once per year – book early to avoid disappointment!
---
Course Cost
£300 per person, inc VAT.
Early bird special offers:
Book before the Sep 7, 2018 and save £50 using promo code: REC1
Book before the Oct 5, 2018 and save £25 using promo code: REC2
---
Why Choose Horton Consulting?
Laura and Michael have over 20 years' experience working on the front desk
Learn what to say and how to say it for every type of situation
Suitable for beginners and the experienced
By attending this course you will:
Learn how to convert new patients on the telephone, by email, and walk in
Master verbal skills for the many difficult situations you face such as:

Complaints
Late running diaries
Late patients
Late cancellations
Lab work
IT issues
Bad news
No availability
Emergency patients
Smelly patients
Sales calls
Difficult names

Expand your current patient experience
Dealing with busy phones and desks
Customer service in all situations
Ideal language to build value in the practice in relation to the fees handling treatment plans at the front desk
Verbal skills for treatment descriptions
Words you should not be using!
---
Register your interest for this course
Signup to our newsletter below to be the first to know when the next Reception LIVE course starts, and benefit from the early bird discounts!
Register my interest
Venue:
Henry Schein, Stanhope House, 18 Stanhope Place, London W2 2HH
Time & Date
13th Nov, 2018
9:15 AM - 4:00 PM
---
What to expect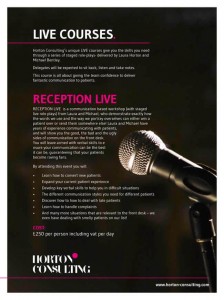 Horton Consulting's unique LIVE courses give you the skills you need through a series of staged role-plays – delivered by Laura Horton and Michael Bentley.
Delegates will be expected to sit back, listen and take notes.
RECEPTION LIVE is a communication based workshop (with staged live role plays) from Laura and Michael, who demonstrate exactly how the words we use and the way we portray ourselves can either win a patient over or send them somewhere else!
Laura and Michael have years of experience communicating with patients, and will show you the good, the bad and the ugly sides of communication on the front desk.
You will leave armed with verbal skills to ensure your communication can be the best it can be, guaranteeing that your patients become raving fans.
And many more situations that are relevant to the front desk – we even have dealing with smelly patients on our list!
Laura and Michael deliver over 60 plays in one day!
This course only runs once per year – book early to avoid disappointment!
---
Speakers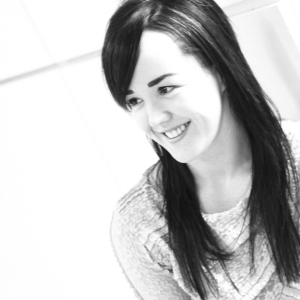 Laura Horton
Laura has been successfully working with dentists and their teams since 2005 and through her own company since 2008. She has a 'sleeves rolled up' attitude and thrives in her unique hands on style of delivery.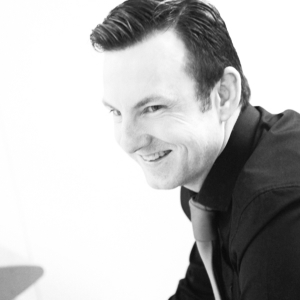 Michael Bentley
Michael has a business diploma in Distribution Management and has over 15 years' experience as a Practice Manager. He also has over 7 years' experience working as a Treatment Co-ordinator and is a qualified and GDC registered DCP.
---
Venue
Henry Schein, Stanhope House, 18 Stanhope Place, London W2 2HH
Directions:
Nearest tube station – Marble Arch. Walking time 5-10 minutes.
Exit Marble Arch to the furthest right exit, go up the stairs and then turn right again. Pret will be in front of you on your right, do not turn off the main road keep walking straight crossing the road and then crossing twice more. Stanhope Place will then be on your right.
As you turn right onto Stanhope Place off Bayswater Road, Henry Schein is on your immediate right. Go through the gate and down the steps to enter the building. DO NOT follow Google maps on your phone as it takes you much further up Stanhope Place.
In a Taxi:
Most taxis coming from Kings Cross station will be coming from the other direction, past Connaught Square, so advise them to go to the bottom on Stanhope Place where the road meets Bayswater Road as the building is the last one on your left from this direction.
---
Register your interest
Sign up to our newsletter to be the first to know about our future courses.