5 oversights you might be making managing your business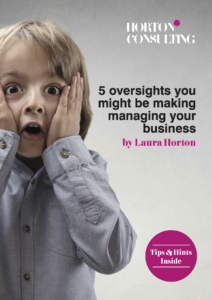 Welcome to the 5 oversights you might be making managing your business!
To gain your free copy fill the form in below!
Why have I complied this report?
I wanted to share some information relating to the concerns that many practices have on a frequent basis.
I wanted to help to point you in the right direction and share why some problems or concerns keep on returning, and why there might be something that you do that's causing a problem that you do not see.
At Horton Consulting we work with practices to enhance not only the business but also the working lives of all in the practice. These quick fire 'mistakes' will help you to either:
A. feel great as you are not doing what is discussed or
B. know that you are not alone (this is why they are listed as they are huge concerns for many practices) and it may help you to make a positive step forward in your business or aid a communication that will begin to make a positive change.
If you would like to enhance your business and know more about how we can help you, you are in luck as our six-day Practice Management course starts in February 2020. This course only runs once a year!
Early booking savings are available!