Pop on your positive HR sunglasses – Part 2
In my last blog I suggested that you pop on your positive HR sunglasses! To read the post click here
Here is part 2! Last time we covered weekly one to one meetings, a set open door policy, back to work interviews, meetings, setting cultures and avoiding grievances. So lets get our shades on with my tips to positive HR part 2: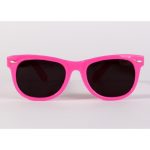 Have appraisals every 6 months – I find that the appraisal meeting is dreaded by you and the team, one of the reasons is frequency. The team don't do them very often, they know they have to have one, so they are something to fear – they shouldn't be it is a time for praise, evaluation and development. There are many ways of making appraisal exciting and fair so look outside the box and make them fun and useful.
Recruitment – Have a robust recruitment system and wait for the best candidate to join the team, don't knee jerk in accepting the first person to give you a CV match. Use an application form process, after receiving CV's to make sure that the person really wants an interview. After interviewing candidates make sure you have trial day for all roles. A trial day is so important to see how the candidate will be with the patients but more importantly the team.
Systems – Invest in time setting up clear templates with pictures, videos, accurate methods of how to do everything in your practice. Systems are the substance in your brand and provide the team with clear expectations of their role on a day by day basis.
Induction – Make sure you have a clear induction programme. Induction will take time with all the policy and procedures you need to go through from health and safety, infection control to your patient experience. You must invest time on training a new team member in all of your systems, so they understand how to become part of your brand. I recommend that every new team members has a 6 month probationary period and that you have a monthly probationary review to give you and the team member a clear gap analysis, a clear agenda of what is to be achieved in the month and a list of positive actions to carry forward.
Contracts – these need to be clear and precise – if something is not happening correctly and is a breach of your contract then you need to engage in disciplinary proceedings. This covers areas such as starting on time, sickness, insubordination, theft, not following policy and procedures. You as a manger you need to know how to manage this and how to deliver an effective disciplinary meeting.
I appreciate there is a lot to do but this all about keeping the sun shining brightly and not allowing HR to consume you and become a negative part of your work life.
Yes there will be times when there are negative HR situations to deal with but prevention, through good HR is the key to avoiding stressful encounters with your team.
If you have gaps in your HR knowledge, we can definitely help you on our 6 day management course programme, where we will teach you in detail how to provide positive HR for your practice.
If you have gaps in your HR knowledge, we can definitely help you on our Practice Management Course, were we will teach you, in detail, how to provide positive HR for your practice. The course starts in September 2017.