The greedy marketer 
I frequently witness what I term as 'greedy marketing'.
One morning I was popping into Tesco and saw this advert on the board outside – a perfect example greedy marketing! This could of been for a number of practices – independents and corporates alike, it could be you!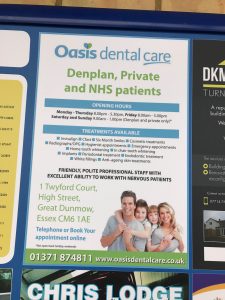 Let me explain:
A key part of marketing is to know your target audience and to market to them. Greedy marketing is where you market to everyone, because you want everyone! This advert states, NHS, Deplan and Private patients – everyone.
This is a huge mistake as you can't be greedy and have everyone, you end up with no-one.
Greedy marketing does not work as greedy marketing has a mixed message.
If you would like to know how to operate slick marketing campaigns then join me on Creating The Fantastic Practice in December 2017 where in 40 minutes I get straight to the point to share with you the key points you need to focus on to be a successful marketer.
Laura