Why you need a recruitment budget and you need to be clear about it!
Have you ever interviewed someone and found out at the end that you cannot afford them? It is really disappointing for all.
If you have taken someone on and feel uncomfortable knowing that you are paying them more than your team that is wrong.
If you are having trouble recruiting as you do not pay enough, you need to address this too!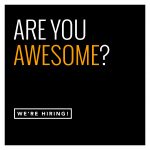 When recruiting my biggest tip to all practices is to have a recruitment budget. When a CV comes through that you like, call the candidate to ask a few initial questions and ask them what salary they are expecting. Be clear with your hourly rate and what that would be for the right person.
I will never forget going for an interview and being offered a job for £0.04 an hour more than my current hourly pay! I was so frustrated and annoyed to of used some of my holiday allowance for the interview.
I know that candidates inflate their hourly rate in hope of a pay rise but you can request a copy of their payslip, and ask them to bring that with them at the interview.
If you are both clear about the salary from the first phone call, you will both be happy to proceed to the first interview stage. This then means the relationship is starting with open communication, and for me that is a great way to start with a potential new employee.
Laura