Marketing can be a piece of cake
It is September and believe it or not, my plans for Christmas have started, especially if it is food related. Bake off is back and it is now time to make the Christmas cake!
This year I have been inspired by Sam Nikon Master Chef finalist (and really nice bloke). He has put his Christmas cake recipe up on Instagram and this year I decided to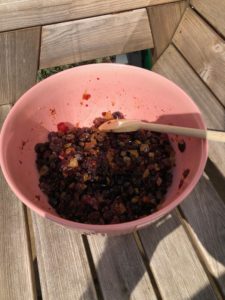 make mine the same time as Sam was live on Instragram. The fruit is soaking in Brandy (lots of Brandy) as I am writing this blog, I love the smell so much it is amazing.
However the cake is not the only the plans I have, I always work 3 months to 6 months ahead and that is defiantly a habit from my years of working in practice, old habits die hard.
I know that marketing projects in practice take months of planning and organising, so now is time to sort out all of your marketing plans for 2019. Marketing takes time to develop, requires budgeting and an understanding of where your focus is going to be. Proofing artwork, confirmation of dates, logistics all takes time and can only be successful if you plan well. Here are a few of the areas I recommend you plan for now to have a superb 2019:
Campaigns – to drive enquiries into different areas of the business
Brand awareness – events to attend including shopping centres, golf clubs, wedding fairs
Internal campaigns – awareness of services for existing patients, banners, posters , A boards
Website updates – Confirmation of meetings and changes to be made – campaigns to run alongside – Rotation of poster campaigns to match your website campaign
Social media – planning monthly content – I would be working with Instagram and Facebook – Campaigns to have a planned budget to maximise reach
Internal leaflet updates – Price lists, membership brochures, service information for detailed clients
Dental awards – if you are thinking about this, now is the time to review what awards you are going for as a practice, who is to involved, budget, timeframes
Newsletters – 4 a year – one for every season – planning articles, interviews and educational hits and tips
There is a lot to do just like there is for Christmas, but I find it enjoyable if you plan well ahead and you have time to get things right, so the outcome is perfect. There is nothing worse than trying to deliver under pressure. Well it is time for me to bake my cake and then I will be lovingly feeding it with more brandy, weekly until December, when it will be ready for marzipan and icing. Some things are worth planning for so the results are amazing.
PS) If you want the recipe for the cake, send us a message and I will send it to you.
Michael