Why I know this is the best 'awards' to enter
There are quite frankly too many awards to enter and they cost a huge amount of money. Every client asks me should they enter, do patients take notice, and is it all worth it?
Every ceremony is a guaranteed good night night out but many are left disappointed not to mention skint from a huge night out.

On Friday night my friend Simon Caxton was the proud owner of 3 awards in the Aesthetic Dentistry Awards. Simon a technician was awarded alongside a client of his for their outstanding clinical work.
The only awards I do recommend is the Aesthetic Dentistry Awards. I remember going to the first one,  then called the Smile Awards, Simon was shortlisted again that night and won too.
The reason that I recommend this one, if any, is that the dentist and technician are judged on their clinical work and your name is anonymous with the judges.
If you are thinking of investing in award entry for PR reasons or substance to your brand this has to be the one. If I was a Dentist or Technician then this is what I would be entering.
On top of this the venue is gorgeous, the team do not tend to go along either so the investment is cheaper for the dentists to go as it is usually just one or two tickets you are buying.
Winning or becoming highly commended for an Aesthetic Dentistry Award is a huge USP and one that patients' definitely will take notice of when they are in the practice, and it is explained to them just as I have explained it – judged on clinical work and their name is anonymous in judging.
Entry will open again soon for 2019 so take a look at the categories and if you have not already start taking pre op photos now not just post op!
Finally a huge congratulations to Simon and his business partner Woody from Simplee Dental Ceramics. They work extremely hard in challenging conditions at times but their dedication and passion is immense. Here is Simon at the ceremony, as you can see his table were very successful!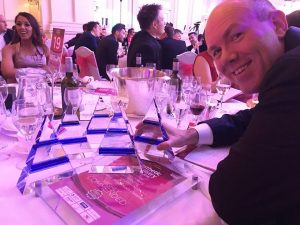 Laura